Line-up Saxcited Summer Taste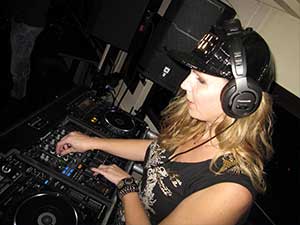 DJ Kadraphonic
Karin Heens aka DJ Kadraphonic is an upcoming talent, ready to conquer the world.
Karin was born and raised in the Netherlands where she currently lives in the Dordrecht area. At the age of 11, she had several years of piano tuition saying, "Music was always a big part of my life". Her feeling for rhythm has always been beating to her life's pulse, and for a while, she even played drums in a marching band. She grew up loving all sorts of music from hard rock and opera right thru to hip-hop and pop. At the age of 17 she was first introduced to "Acid House" and was involved for many years in the house scene, which evolved from Mellow to Gabber and later on Dance, Trance and Techno.
Pondering what she wanted to do with her life for some time, she has been searching for her passion and mission in life. After working jobs that were in the end mundane and not utilising her creative potential, she knew there had to be something she would really love to do, her current jobs just were not feeding her creative flow. Then, around 2010, she took up a career as fashion designer, but after a few years she felt exactly the same again and felt that fashion design was not what she was born to do. Something was still not right and she felt something was still missing. The music just kept calling and at the beginning of 2014 she bought a mixer and she was hooked on it from day one. Kadraphonic was born!
She has performed at some gigs now, entered some DJ contests and is still trying to perfect her style. She has a radioshow called Kadraphonic Beats which airs every week on saturdaynight on 2 different stations. She also started producing. Listen to her first Tech House track: Mobility – Kadraphonic. The music Kadraphonic plays contains mainly Tech House, Techno, House and Acid. Her sound can be described as "phat" beats, dark sounds and grinding noises with "freaky" beats on top. Her goal is to reach people with her music, make them smile, have fun and of course "To make everybody dance!"
Saxcited closing set time: 01:30 - 03:00
DJ Kadraphonic on Facebook